October 8, 2012 in Humor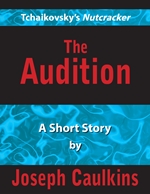 Auditions are a nerve-racking experience. As a conductor I have sat through hundreds of auditions, but I never forget my very first dance audition at age 9. Sure I had never had a dance lesson or a teacher, but everyone knows the key to ballet is the perfect costume.
 ~ The Audition ~
I remember entering her studio and seeing my costume hanging on the wall. It was like it came right off the rack at the Joffrey Ballet! I can still remember the sense of awe standing in front of the full-length mirror in my costume for the very first time. I was only nine, so I didn't have my full beard, just a small goatee. The fabric was very form fitting, but not too tight. The material was smooth and shiny, and the color was perfect! Even with my coiffed goatee I looked smashing!