August 8, 2011 in French Adventures, Summer in France 2011
Tuesday, July 26, 2011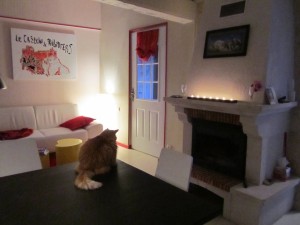 Our last week here in Axat has been mostly an indoor event as the rains continue to fall all around our region. Chilly temps, high winds and lots of rain have kept our neighborhood quiet, as everybody is tucked inside with fireplaces gently burning.  The list of 'things yet to do' has been put aside for our next visit here and I've begun to button things up a bit.  The last 2 summers I rekindled my bobbin lacemaking skills, which had laid dormant since we left our country home in Illinois in 2001.  It's a familiar friend on rainy days and quiet evenings.  Today I ended off the piece I've sporadically woven over the weeks, put away the bobbins and pins, and tucked it all away until our next visit.  It's good to have such a passive hobby here, and I work on it without guilt of missing out on a cocktail soiree, a rehearsal, a movie, or social event…all of those will come again into my life soon enough.
It's been a great summer break, and I thank all of those who allowed us to leave our working nest in Fort Myers to have this time of refreshment and relaxation.  I'm so very happy to know that after nearly 10 weeks of utmost togetherness, Joe & I are not tired of each other one bit but instead have learned to help each other out and to give each other time and space even while being just a few feet apart.  Monday is our 24th wedding anniversary and I feel our love has grown stronger and more unified through the years – I give us a 100% chance of getting really old and funny together.
The cats have had a tremendous time here with places to explore and/or sleep on 3 floors!  The sounds of birdies chirping, buzzing flies and dainty butterflies, warm naps in the sunshine and cool evenings snuggled on the bed with us have given them daily delights.
And of course there has been the food…for ALL of us, oh yum! We've all had a wonderful time trying new tastes and sampling local fare.  Good thing that we walk quite a bit or we'd all be coming home looking like Milhaud (the only family member to have put ON weight…but he has done so in grand style)  I'm crossing my fingers that they don't weigh him at the airport check in or I'll need to slip a toe under his carrier.
So we bid adieu to our little village in Southern France, and we look forward to the next time we can open the shutters and open up a bottle of Bordeaux from the cellar.  See you in just a week Fort Myers.