October 8, 2012 in Favorite Climbs
In 2007 my climbing partner Rob and I went on our first big mountaineering trip. We chose the lower 48s most glaciated peak as our objective, Mount Rainier. Our route took the Emmons glacier, which ascends nearly 10,000 vertical feet, all the way to Rainier's 14,411-foot summit.
Crowded Camp Schurman where most camp. We chose the secluded solitude of Emmons Flats 500 feet higher.
Mount Adams from the summit of Mount Rainier
The crater rim at sunrise
We were in rare form, having already climbed Mount Shuksan and Forbidden Peak, and were the first team to reach the top that day. We made such good time that we had to wait on the crater rim for the sunrise and were back at our high camp by 10:00 am. As is our tradition, we toasted our success with a Zinfandel, raising our glasses to the entertaining, stumbling, never-ending procession of returning climbers well into the afternoon. Stay thirsty my friends.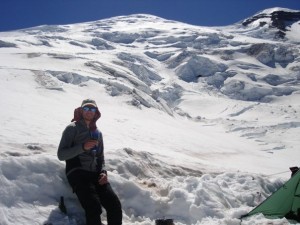 "Sir Edmund" Rob at high camp, Emmons Flats (10,000 feet)
I don't often summit Mount Rainier, but when I do…