Vocal Artistry's debut CD MORE THAN MUSIC was released October 2012 and includes 8 world premiere recordings by composers Gwyneth Walker, Craig Courtney, Bradley Nelson, Daniel Davis, Howard Helvey, David Lantz III, and Mark Hayes.
$15.00  – Available through iTunes and Amazon  – Click to Go to Site
Vocal Artistry is an outreach of the music ministry of First Baptist Church of Fort Myers. The select 22-voice choir is dedicated to performing choral music of the highest quality, strengthening our community and voicing the needs of those around us.
Featuring flutist William Larsen and original artwork by artist Leoma Lovegrove. Highlights include:
Tshotsholoza – Arr. Jeffrey L. Ames
Let Music Fill the Air – Gwyneth Walker
Be Thou a Smooth Way – Ralph M. Johnson
Sure On This Shining Night – Morten Lauridsen
Blessed Assurance – Arr. Mark Hayes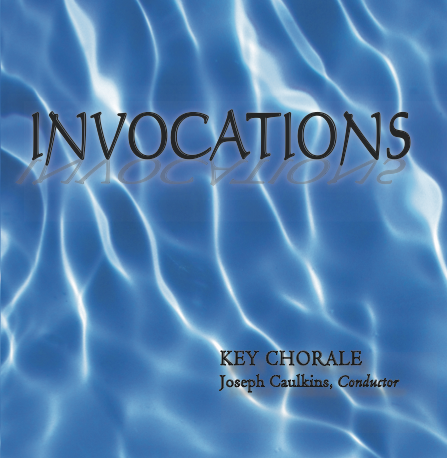 INVOCATIONS, released by Key Chorale, of Sarasota FL in 2010 features the world premiere recording of Invocations: Prayers for the Earth, a commissioned work by Dale Warland in honor of the Chorale's 25th Anniversary, and Three Days by the Sea, a commissioned work by Gwyneth Walker. Featuring clarinetist Bharat Chandra. Highlights include:
Sleep – Eric Whitacre
The Seal Lullaby – Eric Whitacre
God So Loved the World – Daniel Moe
In Remembrance – Jeffrey L. Ames
HOW SWEET THE SOUND features the choruses of the Southwest Florida Symphony heard live and on tour at the Salle de Musique, La Chaux de Fonds, Switzerland. It includes world premiere recordings of David Brunner's I Am in Need of Music and the title track, How Sweet the Sound commissioned from William Dawson Jr. Highlights include:
I Am in Need of Music – David Brunner
The Majesty and Glory of Your Name – Tom Fettke
When I Survey the Wondrous Cross – Gilbert M. Martin
Battle Hymn of the Republic – Peter J. Wilhousky
SING ME TO HEAVEN features the title track by Daniel Gawthrop and world premiere recordings of Bradley Nelson's An Irish Love Duet and Libby Larsen's The Ballerina & the Clown for children's chorus and harp. Harpist Kay Kemper is also featured on Randall Thompson's The Lord is My Shepherd and Cantique de Jean Racine by Gabriel Faure. Highlights include:
Zion's Walls – Aaron Copland
Pavane – Gabriel Faure
If Music Be the Food of Love –David Dickau
Hymn for America – Stephen Paulus