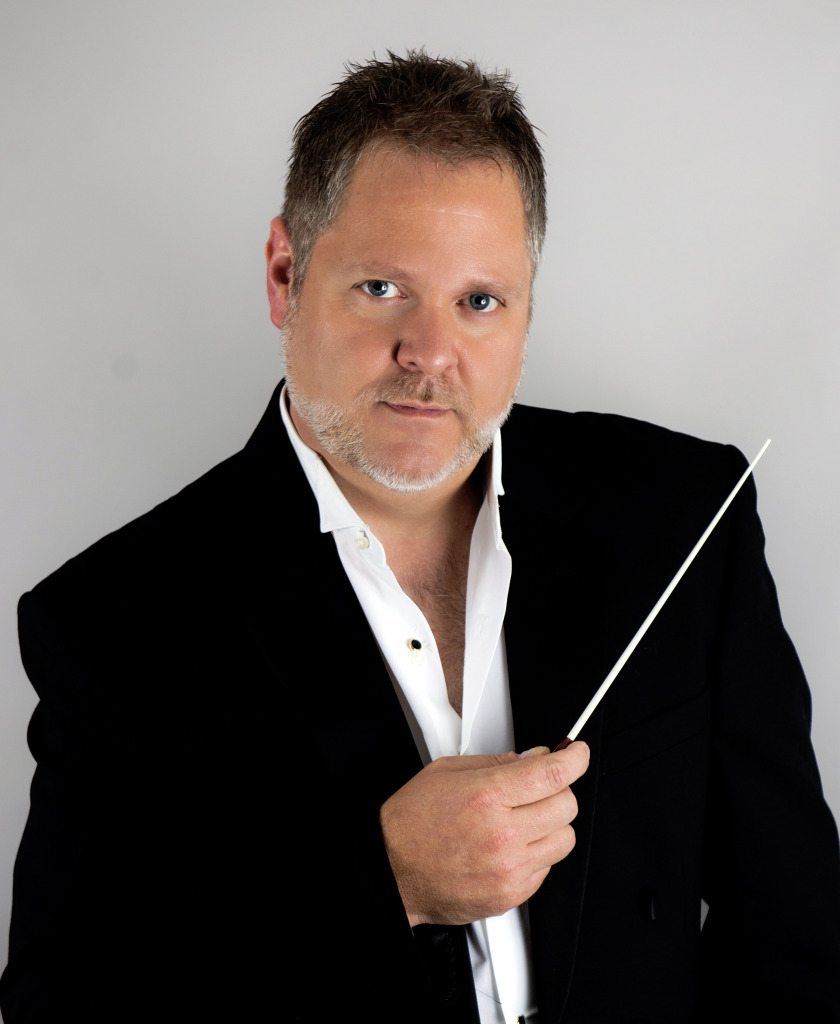 Versatile with a clear beat, and known for his innovative programming, Maestro Caulkins is at home with music from classics to pops, and baroque to ballet. His work alongside pops legend Erich Kunzel, conducting icon Dale Warland, and master technician Helmuth Rilling at the Oregon Bach Festival, have shaped him into a sensitive and dynamic conductor.
As Artistic Director of Sarasota's Key Chorale, Joseph has consistently delivered innovative concert experiences through adventurous programming, unique collaborations, and performances of new and rarely heard works. He has taken audiences to unexpected places including: The world premiere of Lake Isle by Ola Gjeilo, Richard Einhorn's dynamic oratorio, Voices of Light, written to accompany Carl Dreyer's 1928 silent film classic "The Passion of Joan of Arc", a collaboration with the Sarasota Opera and the Sarasota Film Society, an innovative program titled Mozart Meets Radiohead with edgy string quintet Sybarite5, the US premiere of James Whitbourn's Annelies, a setting of the Diary of Anne Frank, which the Herald-Tribune called a "Triumph", and the highly acclaimed Cirque des Voix™, an innovative concert experience with Circus Sarasota.
"This was not simply a concert taking place in a tent with some circus acts in front of the orchestra and chorus. Rather, we saw the Maestro transformed to Ringmaster and programmed music which perfectly meshed with the nature of each circus act."
From 2001-2010 Joseph served as Associate Conductor/Director of Choruses for the Southwest Florida Symphony, where he created the Stained Glass Series, and led annual Messiah and Holiday Pops concerts. Before 2001, he was Artistic Director of the Bach Chamber Choir & Orchestra (Rockford, IL) and directed the St. Procopius Chamber Orchestra and Choirs at Benedictine University (Lisle, IL). With his choruses Mr. Caulkins has recorded numerous CDs, led European concert tours, conducted many  regional and world premieres, and commissioned new works from Dale Warland, Eric Whitacre, and Ola Gjeilo among others.
Artists & Friends
Key Chorale
Key Chorale is comprised of 110 voices with a professional base of section leaders and core singers. It has collaborated with other arts groups such as the Sarasota Opera, Sarasota Ballet, Circus Sarasota, Sarasota Young Voices, and Sybarite5 to bring celebrated musical works to the community.
Maestro Joseph Caulkins
Joseph is the Artistic Director of Sarasota's Key Chorale and for nine seasons was the Associate Conductor/Director of Choruses for the Southwest Florida Symphony. In 2010, he founded Vocal Artistry, a 22-voice chamber choir, as an outreach of the music ministry of First Baptist Church Fort Myers, where he is Director of Music Ministries.
Other Gallery