July 22, 2011 in French Adventures, Summer in France 2011
Friday, July 22, 2011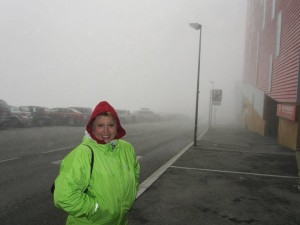 Woke up to another cloudy, drizzly day in Axat (so Strange for July) so we hopped into the car and headed to Andorra to check out all of the bargains on goods like: booze, cigarettes, perfume, grocery goods, and gasoline.  See, Andorra is like a giant Sam's Club or Costco with store upon store inside its 180 sq miles.  To give you an idea of how small this is, Rhode Island is the smallest USA State and it's 1045 sq miles….That's Tiny!  Somehow when the King of Aragon signed a peace treaty with Spain and France in 1278 to stop all of their bickering and fighting back and forth I doubt he envisioned a haven for cheap shopping and skiing, but that's what Andorra has become.  Mind you, we never actually got to SEE any of it because as we climbed up, up, up the road to Ax-les-Thermes on the way to Andorra we became engulfed in clouds and mist which never eased up.
As we walked around from one store to another bracing ourselves against the 6 degree celsius freezing drizzle, barely able to see the next store due to the rolling clouds past our faces, we had to admit perhaps this was not such a fantastic day trip.  But I did get a good deal on a nice, small backpack for day hikes and a super cheap curling iron, and Joe got a sweet deal on a pair of shoes.  Just to say we'd 'done it' we tossed in a very, very inexpensive bottle of scotch for nightcaps on cold evenings….to ward off the cold of course.  So we headed back toward the border all set with passports in hand and….never needed to stop.  What IS IT with border control around here?  We've now been across the French/Spanish and French/Andorran border like 6 times and have yet to be stopped, or even slowed for that matter.  I guess we must look very trustworthy.
I'm posting a photo album of some of the things we DID see today…like herds of goats wandering across the road.  Also saw herds of cows but it was too foggy to snap their photo…heck! we had to drive so slow over the Col de Pailheres on the way to Ax-les-Thermes that there was no chance we could have actually hit a cow in the road and done any damage to either the cow or the car.  I hope none of you ever need to drive on a 1 lane road over a 6,000 foot mountain in a near whiteout of fog and mist…did I mention that there's oncoming traffic on this 1-lane road?  🙂  Fun, Fun.